ISACA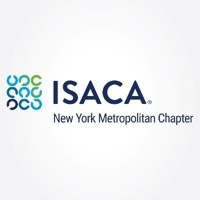 Think Tank
ISACA
Think Tank - 2022 Feb 23 CISO Think Tank NY
---
Our Mission: As a leading ISACA chapter, our mission is to serve our membership by providing world-class training, networking opportunities, and guidance while contributing to the profession both locally and internationally.


Our History:In early 1975, the New York Metropolitan Chapter of the EDP Auditors Association (EDPAA) was founded by Richard Hirschfield and sixteen fellow EDP Audit pioneers. After being chartered at the 3rd National EDPAA Conference in Philadelphia, informal monthly meetings were held, and within seven months attendance grew to 60 people.
In 1994, the Association name was changed to Information Systems Audit and Control Association (ISACA). Today, ISACA is a worldwide organization with over 200 chapters and the New York Metropolitan Chapter has grown to be one of the largest ISACA chapters in the world.


Our Membership: The New York Metropolitan Chapter has over 4,057 members, from the information systems audit/assurance, information security, IT risk management, and governance professions. Our members represent a wide array of industries including financial services, accounting and consulting, legal services, education, entertainment, health care, retail, public utilities, and government/regulatory entities – and hold positions ranging from entry level staff to senior management. Our members constantly enhance their skills and expand their professional credentials by obtaining certifications. As a group, our members hold over 3,000 ISACA certifications comprising approximately 1,998 CISA, 666 CRISC, 748 CISM, and 145 CGEIT. Of ISACA's new cutting-edge Cybersecurity Nexus (CSX) certifications 83 CSX-Fundamentals, 8 CSX-P , 455 CDPSE, and 24 Cybersecurity Audit, have received the Cybersecurity Certificate.


Our Board and Committees: The New York Metropolitan Chapter Board of Directors consists of 23 Board Directors plus the most recent past president, who are charged with fulfilling ISACA's mission and meeting the needs of our Chapter's members. The Board of Directors is supported by Committees comprising both Board Directors and volunteers, like you, who meet regularly to plan educational and networking events. Board Directors and volunteers work as a team, and in the course of executing the Chapter's mission, they develop skills and rewarding relationships, while at the same time influencing and helping to shape the direction of the profession. Board Directors and volunteers enjoy peer recognition with ISACA chapter leaders around the world and the chance to have an impact in the largest ISACA chapter.


We currently have eighteen standing committees: Academic, Audit, Bylaws, Certification, Corporate Relations, Education, Finance, Membership, Strategic Planning, Administration, Nominating, Conferences, Risk Compliance & Legal, Emerging Professional, She Leads Tech, Information & Communication, Wasserman and Technology. The objectives of these ten standing committees, and other ad hoc committees, are described on the right. Contact information is included for your convenience for public-facing committees. Members are encouraged to contact the Membership Committee Chair at 
membership@isacany.org
 or the Chapter President at president@isacany.org if you have questions or comments.
How can you become a Board Director? At the beginning of each year, Chapter members interested in making a difference and participating on the Board of Directors are encouraged to nominate themselves or someone else by submitting the Nomination form to the Nominating Committee at 
nominations@isacany.org
. Notifications are posted on the Chapter website and emailed to all Chapter members. Voting typically takes place in May and the new Board of Directors is introduced at the Annual Gala, typically in June.